Jump to navigation




For now, a new Vantage will hang with a V8 engine only

A V12 chronicle of a Aston Martin Vantage is technically possible, though no preference has nonetheless been done to put it into production, according to CEO Andy Palmer.
Speaking during a launch of a new Vantage, Palmer highlighted that it had been grown with a new, sportier impression in mind as partial of Aston's pull to give any of a models opposite characters, adding that a V8's weight advantages contributed to that. "The V12 is a doubt we'll consider, though there has been no preference yet," pronounced Palmer.
"Technically, it is unequivocally possible. The engine brook has been designed to replicate that of a DB11, so a pick-up points and so on are all there. The V12 would fit though a need for endless modifications.
"But we have to cruise a impression of a new Vantage. This is a rebel, a unequivocally sporty automobile that stands out for a handling. The V12 has many good attributes, though a additional weight would move some differences in impression that we'd need to consider."
Palmer has already reliable that a primer V8 chronicle of a Vantage will be developed, as good as a roadster, with both set to be launched over a subsequent 18 months to dual years.
Our Verdict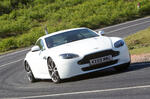 The Aston Martin Vantage has an contentment of soul, and decent ability with it
James Dene
An event
I advise they use a forgive of wanting some-more room for a V12 to quarrel behind from a stupidities of that front finish – building it and afterwards fortifying it. And if we was compelling a oppulance branded sports automobile (AM is a tellurian Top 10 oppulance brand) we wouldn't benefaction it in what looks like a a signature colour of a good recognized Ford. 
eseaton
The choice of a manual.
The choice of a manual.
In itself a reason to rejoice.
Symanski
Of march they will.
There's no doubt eventually they'll put a V12 in there.
Just wish they'd repair a looks first.
Peter Cavellini
V12…..!?
Ditto, of march a V12 will be slotted in….!
Peter Cavellini.
Driven this week